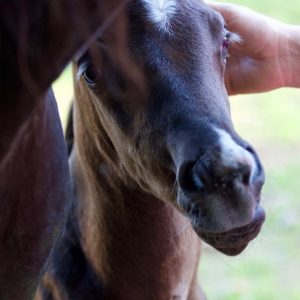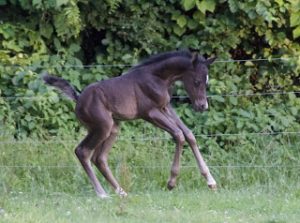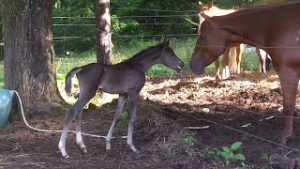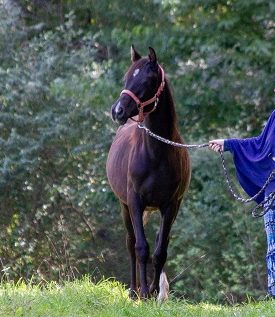 EW Nasr Mubaarak
(means blessed victory.  pronounced na-sr moo-baa-rahk)
colt (young male) born June 2018
registration pending
Bahiya Mizan x Nafis Rafiq
Nasr was born this past June.  Right away we could see he inherited his father's outstanding conformation and head, and the white markings that all his family share.
He has lived among the mare and gelding herd since birth.  Nasr is very independent, and is just as happy to go on adventures with "uncle" Lucky, the herd protector, or follow one of his "aunt" mares.  His personality is regal, thoughtful, sometimes a bit arrogant and stubborn, never aggressive or mean.  Nasr is not convinced that humans are useful or fun yet, although he enjoys scratches.  He floats when he moves.
Nasr recently learned to wear a halter and be led, and he has also had his first full hoof trimming.  He is growing fast, already almost as tall as his mother, and we think he may be taller than either parent.  He has shed is brown baby fur and has his black adult coat now.
Because of his age, Nasr can sometimes be unpredictable.  While he is kind and friendly, he is also a baby still, and impulsive like a baby.  For that reason, we limit guest interaction with Nasr when he is loose in the field.  Nasr does not participate in the lesson program, although he often observes.
You can search the blog for multiple entries about Nasr.