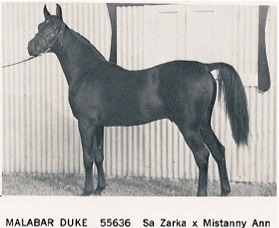 The Original Malabar Arabian Horses – Searchable Table
Malabars are a modern Arabian strain bred by Dr. Ruth Schmidt for rare black color, good size, strong bodies and above-average calm intelligent minds with strong empathy for humans.  Below is a sortable list of the original horses from the Doctor's breeding program.
Our horses Safin n Niya, Bahiya Mizan, and Nasr Mubaarak are 75% Malabar Arabian.   If you are interested in meeting a Malabar in person, our part-Malabars participate in our horse Experiences, including our Conscious Horsemanship Trail Rides and Mind-Body Conscious Horseback Riding (coming soon).  There are also 3 Malabar breeders, located in Wisconsin, California and Europe.  See our Malabar page for details.
| year | name | reg | sire x dam | color | sex | DOB | acquired/bred infomation | | |
| --- | --- | --- | --- | --- | --- | --- | --- | --- | --- |
| pre 1968 | Shahrah | AHR 5734 | Rallaf x Raiaba | chestnut | mare | 12-8-1949 | acquired 1952 died 4-15-1975 | | |
| pre 1968 | Zohreh | AHR 10927 | Abu Raseyn x Shahrah | chestnut | mare | 4-20-1956 | bred 1956 sold 4-20-1956 | | |
| pre 1968 | Bint Shahrah | AHR 13234 | Hallany Mistanny x Shahrah | black | mare | 4-9-1958 | bred 1958 died 11-1-1996 | | |
| pre 1968 | Ibn Shahrah | AHR 16276 | Hallany Mistanny x Shahrah | black | stallion | 5-15-1960 | bred 1960 died 1967 | | |
| pre 1968 | Jane | AHR 24365 | Ibn Shahrah x Star of Aarouf | bay | mare | 5-21-1963 | bred 1963 reacquired co-owned Jim Betty Davidson 11-20-1973 sold to them 3-27-1980 | | |
| pre 1968 | Mona | AHR 12160 | Fa-Serr x Fa-Abba | black | mare | 4-6-1957 | acquired 1964 sold 11-1-1967 exported to Canada reimported to US | | |
| pre 1968 | Midnight Star | AHR 27061 | Ibn Shahrah x Shahrah | black | mare | 3-7-1964 | bred 1964 died 4-15-1975 | | |
| pre 1968 | Monah | AHR 31110 | Seneyn x Mona | gray | mare | 4-1-1965 | bred 1965 sold 2-12-1974 | | |
| pre 1968 | Gaydora | AHR 5664 | Gayr x Mira | dark bay | mare | 5-9-1949 | acquired 9-11-1966 died 4-15-1975 | | |
| pre 1968 | Monigha | AHR 7946 | Mounwer x Nigha | chestnut | mare | 2-16-1952 | acquired 1966 sold 7-21-1967 | | |
| pre 1968 | Gretchen | AHR 37849 | Black Sambo x Bint Shahrah | chestnut | mare | 2-28-1966 | bred 1966 sold 1-18-1969 | | |
| pre 1968 | Elizabeth | AHR 37850 | Ibn Shahrah x Mona | black | mare | 3-25-1966 | bred 1966 sold 7-20-1979 | | |
| pre 1968 | Gazya | AHR 2588 | Sikin x Rabiyat | bay | mare | 2-16-1943 | acquired 1967 sold 12-13-1969 | | |
| pre 1968 | Sa Zarka | AHR 4890 | Fad Zarka x Sarifah | black | stallion | 3-11-1948 | acquired 1967 died 4-15-1975 | | |
| pre 1968 | Rifajurita Star | AHR 29180 | Ibn Fadjur x Rifwah | bay | mare | 6-29-1964 | acquired 1969 died 2-1-1976 | | |
| pre 1968 | Tari Aan | AHR 26038 | Maard x Nefertari | bay | mare | 3-9-1963 | acquired 3-28-1970 died 10-3-1973 | | |
| pre 1968 | Taaresa | AHR 44149 | Maard x Nefertari | chestnut | mare | 4-2-1967 | acquired 3-28-1970 no foals died 4-15-1975 | | |
| pre 1968 | Nigma | AHR 17337 | Farlowa x Mozina | chestnut | mare | 7-13-1960 | acquired 12-29-1970 died 1-13-1977 | | |
| pre 1968 | Lalumah | AHR 10696 | Serafix x Subaiha | bay | mare | 1-14-1956 | acquired 8-14-1971 sold 1-10-1973 | | |
| pre 1968 | Sunny Acres Lovejoye | AHR 10841 | Ibn Hanad x Joye | black | mare | 8-5-1956 | acquired 1-31-1972 | | |
| pre 1968 | Fadsuraida | AHR 38703 | Ibn Fadjur x Suraida | bay | mare | 5-22-1966 | acquired 8-27-1972 sold 4-5-1983 | | |
| pre 1968 | Serr Serbah | AHR 31959 | Ibn Fa-Serr x Serabah | black | stallion | 4-18-1965 | acquired 10-10-1974 sold 5-26-1976 | | |
| pre 1968 | Summer Wine | AHR 41143 | El Manakha x Gaydora | bay | mare | 3-22-1967 | aquired bred by William and Patricia Benson owned by Dr. Schmidt at birth sold 7-1-1968 | | |
| 1968 | Bint Jane | AHR 46856 | Kubaishan x Jane | bay | mare | 1-20-1968 | bred co-owned with James and Betty Davidson 11-15-1968 sold to them 11-22-1973 | | |
| 1968 | Malabar Belinda | AHR 46709 | Sa Zarka x Bint Shahrah | black | mare | 2-3-1968 | bred sold 12-1-1969 to Shelton Rimer purchased back 1-31-1972 presumed died 1-31-2003 | | |
| 1968 | Malabar Red Baron | AHR 48733 | Kubaishan x Shahrah | bay | gelding | 3-8-1968 | bred sold 9-3-1969 | | |
| 1968 | Kubaishan of Pico | AHR 50486 | Kubaishan x Monigha | gray | gelding | 4-29-1968 | bred by but never owned by Dr. Schmidt-his dam sold to William Hearst Jr. before him | | |
| 1968 | Malabar Karen | AHR 47332 | Sa Zarka x Gazya | bay | mare | 4-30-1968 | bred died 4-15-1975 | | |
| 1968 | Malabar King-Prince Ebony | AHR 47333 | Sa Zarka x Gaydora | black | stallion | 5-7-1968 | bred sold to Wayne Newton 1-30-1969 purchased back 3-6-1972 died 12-31-1990 | | |
| 1969 | Malabar Star | AHR 55639 | Sa Zarka x Midnight Star | black | mare | 2-14-1969 | bred sold to Shelton Rimer 12-1-1969 purchased back 1-31-1972 sold 5-24-1985 | | |
| 1969 | Big John | AHR 55368 | Kubaishan x Monah | gray | gelding | 3-2-1969 | bred died 4-15-1975 | | |
| 1969 | Malabar Duke | AHR 55636 | Sa Zarka x Mistanny Ann | black | stallion | 3-5-1969 | aquired bred by Ronald Coats owned by Dr. Schmidt at birth sold to Shelton Rimer 12-1-1969 purchased back 1-31-1972 co-owned with Mildred Tresierra 12-31-1977 and exported to Canada purchased back 8-20-1978 and reimported to US 12-31-1990 | | |
| 1969 | Malabar Prince | AHR 56817 | Sa Zarka x Bint Shahrah | black | stallion | 3-24-1969 | bred sold and exported to UK 8-5-1978 | | |
| 1969 | Malabar Raswanah | AHR 55637 | Sa Zarka x Gaydora | black | mare | 5-3-1969 | bred died 4-30-2004 | | |
| 1970 | Malabar Laverne | AHR 63979 | Sa Zarka x Monah | gray | mare | 3-25-1970 | bred sold 3-15-1978 | | |
| 1970 | Malabar Joan | AHR 63980 | Sa Zarka x Rifajurita Star | black | mare | 4-7-1970 | bred sold 7-20-1987 | | |
| 1971 | Malabar Khryssy | AHR 79086 | Prince Ebony x Tari Aan | black | mare | 4-11-1971 | bred sold 12-15-1974 | | |
| 1971 | Malabar Lynda | AHR 79084 | Prince Ebony x Rifajurita Star | black | mare | 4-13-1971 | bred sold 10-10-1980 exported to Canada | | |
| 1971 | Malabar Aimee | AHR 79085 | Prince Ebony x Monah | gray | mare | 4-25-1971 | bred sold 5-6-1973 | | |
| 1971 | Malabar Shahrah | AHR 79088 | Prince Ebony x Bint Shahrah | black | mare | 5-12-1971 | bred sold 4-16-1982 | | |
| 1971 | Malabar Sheik | AHR 79087 | Prince Ebony x Elizabeth | black | stallion | 5-29-1971 | bred sold 3-17-1977 purchased back 10-10-1978 sold 12-9-1978 | | |
| 1971 | Malabar Princess | AHR 81356 | Prince Ebony x Midnight Star | black | mare | 6-21-1971 | bred no foals 10-16-1975 | | |
| 1972 | Malabar Aan | AHR 86365 | Malabar Prince x Tari Aan | bay | mare | 3-1-1972 | bred sold 4-10-1984 | | |
| 1972 | Malabar Laurens | AHR 85825 | Panama Pakistan x M. Belinda | bay | gelding | 3-5-1972 bred bred by Shelton Rimer owned by Dr. Schmidt at birth sold 2-10-1973 | | | |
| 1972 | Malabar Kuda | AHR 81477 | Malabar Prince x Nigma | bay | stallion | 3-25-1972 | bred sold 9-17-1972 | | |
| 1972 | Bint Lalumah | AHR 81478 | Natez x Lalumah | bay | mare | 3-29-1972 | bred bred by John Rogers owned by Dr. Schmidt at birth sold 1-10-1973 | | |
| 1972 | MB Easter Joy | AHR 102894 | El Tio x Bint Jane | bay | mare | 4-2-1972 | aquired bred by and co-owned with Jim and Betty Davidson no foals | | |
| 1972 | Malabar Sa Zarka | AHR 81476 | M. Prince x Rifajurita Star | black | stallion | 4-3-1972 | bred sold 10-20-1973 | | |
| 1972 | Malabar Aarouf | AHR 85824 | M. Duke x S. A. Lovejoye | black | stallion | 5-21-1972 | bred bred by Shelton Rimer owned by Dr. Schmidt at birth sold 2-15-1975 | | |
| 1972 | Malabar Gretchen | AHR | Sunny Acres Ian x M. Star | bay | mare | 6-6-1972 | bred bred by Shelton Rimer owned by Dr. Schmidt at birth sold 11-1-1972 | | |
| 1973 | Malabar Amir | AHR 92803 | Malabar Duke x Gretchen | black | stallion | 1-29-1973 | aquired bred by Roy McDonald owned by Dr. Schmidt at birth co-owned Ulla Boysen 3-25-1975 sold 9-1-1980 | | |
| 1973 | Malabar Roulette | AHR 92265 | Malabar Duke x Malabar Joan | black | stallion | 3-5-1973 | bred sold 12-15-1974 exported to Canada | | |
| 1973 | Malabar King | AHR 92267 | Prince Ebony x Malabar Belinda | black | stallion | 4-6-1973 | bred sold 9-1-1976 | | |
| 1973 | Malabar Nefertari | AHR 92263 | Malabar Duke x Tari Aan | black | mare | 4-18-1973 | bred | | |
| 1973 | Malabar Nefertiti | AHR 91264 | Prince Ebony x Rifajurita Star | black | mare | 4-24-1973 | bred sold 3-12-1975 repurchased 8-17-1980 | | |
| 1973 | Malabar Grey Duke | AHR 92797 | Malabar Duke x M. Laverne | gray | gelding | 5-21-1973 | bred co-owned with Daphne Sanders 3-25- 1975 sold to Daphne Sanders 4-14-1977 | | |
| 1973 | Malabar Mahroussa | AHR 92799 | Malabar Duke x S. A. Lovejoye | black | mare | 6-1-1973 | bred sold 1-5-1982 no foals | | |
| 1973 | Malabar Fa Serr | AHR 92801 | Malabar Duke x Elizabeth | black | gelding | 6-22-1973 | bred sold 4-22-1977 no foals | | |
| 1973 | Malabar Samhan | AHR 92800 | Prince Ebony x Bint Shahrah | black | stallion | 6-24-1973 | bred sold 8-15-1976 exported to Canada | | |
| 1973 | Malabar Faddan | AHR 92798 | Prince Ebony x Malabar Star | black | stallion | 6-24-1973 | bred sold 4-29-1978 | | |
| 1973 | JMB Janea Tez | AHR 102895 | Manolito x Bint Jane | bay | mare | 6-26-1973 | aquired bred by and co-owned with Jim and Betty Davidson sold 8-24-1974 no foals | | |
| 1974 | JMB Jayshan | AHR 103068 | Kubaishan x Jane | gray | stallion | ? | aquired bred by Jim and Betty Davidson co- owned by them and Dr. Schmidt from birth no foals | | |
| 1974 | Malabar Cochise | AHR 107222 | Prince Ebony x Fadsuraida | bay | gelding | 2-11-1974 | bred sold 7-11-1976 no foals | | |
| 1974 | Ibis Maali | AHR 107223 | Prince Ebony x Nigma | bay | mare | 3-17-1974 | bred sold 2-23-1978 | | |
| 1974 | Malabar Sheba | AHR 107224 | Prince Ebony x M. Belinda | black | mare | 4-18-1974 | bred sold 1-30-1978 | | |
| 1974 | Malabar Tony | AHR 107221 | M. Prince x M. Raswanah | black | stallion | 5-4-1974 | bred sold and exported to Guatamala 12-1-1976 | | |
| 1974 | Malabar Manuelito | AHR 107220 | Prince Ebony x Rifajurita Star | black | stallion | 5-7-1974 | bred sold 5-4-1979 | | |
| 1974 | Malabar Islama | AHR 107217 | Malabar Prince x M. Joan | black | mare | 5-15-1974 | bred sold and exported to Guatamala 12-1-1976 | | |
| 1974 | Malabar Rex | AHR 109174 | Prince Ebony x S. A. Lovejoye | black | stallion | 5-22-1974 | bred sold and exported to UK 12-3-1977 | | |
| 1974 | Malabar Ruffian | AHR 128867 | Malabar Duke x M. Shahrah | black | mare | 6-4-1974 | bred sold 7-21-1978 | | |
| 1974 | Malabar Paula | AHR 107218 | Malabar Duke x Elizabeth | black | mare | 6-11-1974 | bred sold 6-23-1979 exported to Columbia | | |
| 1974 | Malabar Islam | AHR 107219 | Prince Ebony x Malabar Star | black | stallion | 6-12-1974 | bred sold 11-1-1976 | | |
| 1974 | Malabar Black Hawk | AHR 109175 | Prince Ebony x Bint Shahrah | black | stallion | 6-20-1974 | bred sold 6-16-1985 | | |
| 1974 | Malabar Geronimo | AHR 107225 | Malabar Duke x M. Laverne | gray | stallion | 6-28-1974 | bred sold 6-1-1976 | | |
| 1975 | Malabar JMB Buddy | AHR 120586 | Prince Ebony x Jane | black | stallion | 1-31-1975 | bred co-owned with Jim and Betty Davidson sold 3-21-1977 | | |
| 1975 | Malabar Susan | AHR 120597 | Prince Ebony x Fadsuraida | black | mare | 2-14-1975 | bred sold 12-28-1981 | | |
| 1975 | Malabar Nigma | AHR 120588 | Prince Ebony x Nigma | bay | mare | 3-29-1975 | bred sold 4-15-1978 | | |
| 1975 | Malabar Zoltan | AHR 120596 | Prince Ebony x M. Belinda | black | stallion/gelding | 4-23-1975 | bred sold 10-28-1980 | | |
| 1975 | Malabar Wildfire | AHR 120593 | Malabar Prince x M. Lynda | black | stallion | 4-28-1975 | bred sold 9-6-1985 | | |
| 1975 | Malabar Rifwah | AHR 120587 | Prince Ebony x Malabar Joan | black | mare | 5-13-1975 | bred sold 6-23-1979 exported to Columbia | | |
| 1975 | Badawia | AHR 120594 | Prince Ebony x Rifajurita Star | black | mare | 5-20-1975 | bred sold and exported to UK 12-2-1978 | | |
| 1975 | Malabar Mariah | AHR 120595 | Prince Ebony x Malabar Star | black | mare | 5-22-1975 | bred | | |
| 1975 | Malabar Makata | AHR 120598 | Prince Ebony x Elizabeth | black | gelding | 6-4-1975 | bred sold 10-13-1975 no foals | | |
| 1975 | Malabar Roda | AHR 120590 | Prince Ebony x Bint Shahrah | black | mare | 6-24-1975 | bred sold 5-24-1985 | | |
| 1975 | Malabar Monah | AHR 121400 | Prince Ebony x M. Laverne | gray | mare | 6-27-1975 | bred sold 5-14-1978 | | |
| 1975 | Malabar Troy | AHR 120592 | Prince Ebony x S. A. Lovejoye | black | stallion | 7-17-1975 | bred no foals | | |
| 1975 | Ozma of Oz | AHR 79702 | Ozem x Mona | black | mare | 5-24-1971 | acquired 10-31-1975 sold 12-28-1981 | | |
| 1976 | Malabar Fasaab | AHR 138099 | Prince Ebony x Ozma of Oz | black | stallion | 1-15-1976 | bred bred by Cherry Valley Farm owned by Dr. Schmidt at birth sold 9-14-1977 | | |
| 1976 | MalabarSerrSerbah | AHR 134294 | Serr Serbah x Malabar Aan | black | stallion | 2-21-1976 | bred sold 5-27-1978 | | |
| 1976 | JMB | AHR 135595 | Prince Ebony x Jane | bay | mare | 2-22-1976 | bred bred by and co-owned with Jim and Betty Davidson sold to them 2-22-1976 | | |
| 1976 | Malabar Raswan | AHR 135405 | Prince Ebony x M. Raswanah | black | gelding | 3-12-1976 | bred sold 12-29-1979 | | |
| 1976 | Malabar Aurora | AHR 134292 | Prince Ebony x M. Belinda | black | mare | 4-26-1976 | bred sold and exported to Guatamala 12-1-1976 | | |
| 1976 | Malabar Serr Lynd | AHR 134295 | Serr Serbah x Malabar Lynda | black | stallion | 4-27-1976 | bred sold 4-27-1976 purchased back 1-18-1978 no foals | | |
| 1976 | Malabar Jessica | AHR 162698 | Prince Ebony x Nigma | bay | mare | 5-1-1976 | bred sold 12-16-1979 | | |
| 1976 | Aswad Asad | AHR 134298 | Prince Ebony X Fadsuraida | black | stallion | 5-14-1976 | sold 1-22-1978 purchased back 2-2-1982 sold again 2-1-1985 | | |
| 1976 | Malabar Zarife | AHR 134296 | Prince Ebony X Malabar Joan | black | stallion | 5-16-1976 | sold 12-31-1978 exported to Columbia | | |
| 1976 | Malabar Rallaf | AHR 134293 | Prince Ebony X Malabar Star | black | stallion | 5-21-1976 | sold 5-27-1978 | | |
| 1976 | Malabar Lovejoye | AHR 137624 | Prince Ebony X Sunny Acres Lovejoye | black | mare | 6-5-1976 | sold 5-7-1987 | | |
| 1976 | Malabar Ronek | AHR 137625 | Prince Ebony X Malabar Laverne | gray | stallion | 6-30-1976 | sold 2-21-1978 | | |
| 1977 | Malabar Don Juan | AHR 153780 | Prince Ebony X Jane | bay | gelding | 2-15-1977 | bred by and co-owned with Jim and Betty Davidson acquired solely by Dr. Schmidt 2-15-1977 sold 2-1-1978 no foals | | |
| 1977 | Malabar Beth | AHR 157213 | Prince Ebony X Elizabeth | black | mare | 3-6-1977 | no foals | | |
| 1977 | Malabar Tiffany | AHR 153785 | Prince Ebony X Malabar Nefertari | black | mare | 3-22-1977 | sold 7-20-1987 | | |
| 1977 | Malabar Gaydora | AHR 153784 | Prince Ebony X Malabar Raswanah | black | mare | 3-31-1977 | sold 2-20-1984 exported to Canada | | |
| 1977 | Malabar Pamela | AHR 157210 | Malabar King X Malabar Lynda | black | mare | 4-23-1977 | no foals | | |
| 1977 | Sodah | AHR 157207 | Prince Ebony X Fadsuraida | black | mare | 5-11-1977 | sold and exported to UK 12-2-1978 | | |
| 1977 | Malabar Talal | AHR 153783 | Prince Ebony X Malabar Joan | black | stallion | 5-13-1977 | sold 4-29-1981 | | |
| 1977 | Malabar Sherifa | AHR 153781 | Prince Ebony X Malabar Belinda | black | mare | 5-13-1977 | sold and exported to UK 12-3-1977 | | |
| 1977 | Malabar Hamdan | AHR 153782 | Prince Ebony X Malabar Star | black | stallion | 5-14-1977 | | | |
| 1978 | Malabar Sharif | AHR 168257 | Prince Ebony X Ozma of Oz | black | stallion/gelding | 1-10-1978 | sold 5-16-1982 | | |
| 1978 | Black Mist | AHR 111887 | SW Amir Gayronek X Gretchen | black | mare | 2-8-1974 | acquired 1-25-1978 sold 7-21-1978 | | |
| 1978 | MTM Nimrod | AHR 165903 | Fadorn X Black | Mist | bay | stallion | 2-6-1978 | bred by JS Horton sold 2-6-1978 | |
| 1978 | Malabar Sabrina | AHR 167894 | Prince Ebony X Malabar Paula | black | mare | 2-9-1978 | sold 2-9-1978 no foals | | |
| 1978 | Malabar Loverne | AHR 168263 | Prince Ebony X Sunny Acres Lovejoye | black | mare | 2-13-1978 | sold 3-17-1980 purchased back 12-10-1986 sold 12-20-1994 | | |
| 1978 | Malabar JebStuart | AHR 168266 | Prince Ebony X Jane | black | stallion | 2-28-1978 | co-owned with Jim and Betty Davidson then acquired by Dr. Schmidt 7-20-1979 no foals | | |
| 1978 | Malabar Angela | AHR 182663 | Prince Ebony X Elizabeth | black | mare | 3-15-1978 | sold 5-14-1981 | | |
| 1978 | Malabar Nile King | AHR 168264 | Prince Ebony X Malabar Raswanah | black | stallion | 4-14-1978 | sold 9-16-1979 no foals | | |
| 1978 | Malabar Hatshepsut | AHR 168265 | Malabar Prince X Malabar Ruffian | black | mare | 4-14-1978 | sold 5-14-1981 | | |
| 1978 | Malabar Amon Ra | AHR 168260 | Prince Ebony X Malabar Aan | black | stallion | 4-15-1978 | sold 12-29-1980 | | |
| 1978 | Malabar Endorra | AHR 167893 | Prince Ebony X Malabar Nefertari | black | mare | 4-24-1978 | sold 4-24-1978 purchased back 11-1-1978 sold 6-6-1980 | | |
| 1978 | Malabar Akenaton | AHR 169719 | Prince Ebony X Malabar Lynda | black | stallion | 4-29-1978 | sold 12-15-1979 | | |
| 1978 | Malabar Ramses | AHR 168258 | Prince Ebony X Malabar Belinda | black | stallion | 5-2-1978 | sold 8-26-1982 | | |
| 1978 | Malabar Anne | AHR 168259 | Prince Ebony X Malabar Joan | black | mare | 5-7-1978 | sold 6-23-1979 | | |
| 1978 | Malabar Horus | AHR | Prince Ebony X Malabar Star | black | stallion | 5-11-1978 | | | |
| 1978 | Malabar Isis | AHR 168262 | Prince Ebony X Fadsuraida | bay | mare | 5-14-1978 | sold 12-9-1978 | | |
| 1978 | Malabar Ruth | AHR 174041 | Prince Ebony X Fad Su | black | mare | 6-6-1978 | acquired 12-15-1978 | sold 2-5-1981 purchased back 10-18-1987 | |
| 1979 | Malabar Najmullah | AHR 201030 | Prince Ebony X Malabar Roda | black | stallion | 2-8-1979 | sold 8-24-1979 | | |
| 1979 | Malabar Nobleman | AHR 185792 | Prince Ebony X Jane | black | stallion/gelding | 3-25-1979 | co-owned with Jim and Betty Davidson then acquired by Dr. Schmidt 3-26-1979 sold 12-28-1982 | | |
| 1979 | MCM Sierra | AHR 193092 | Malabar Prince X Malabar Monah | gray | mare | 4-13-1979 | sold 4-14-1979 | | |
| 1979 | Malabar Layla | AHR 189373 | Prince Ebony X Malabar Lynda | black | mare | 4-22-1979 | sold 5-24-1985 | | |
| 1979 | Hada Miss Malabar | AHR 230491 | Malabar Zoltan X Malabar Susan | black | mare | 4-23-1979 | sold 4-23-1979 | | |
| 1979 | Malabar Nilequeen | AHR 189374 | Prince Ebony X Fadsuraida | black | mare | 5-16-1979 | no foals | | |
| 1979 | Malabar Budra | AHR 189376 | Prince Ebony X Malabar Star | black | mare | 5-18-1979 | sold 5-7-1987 | | |
| 1979 | Malabar Antar | AHR 189377 | Prince Ebony X Malabar Joan | black | stallion/gelding | 5-25-1979 | sold 10-9-1980 | | |
| 1979 | Selket | AHR 149833 | Amir Ibn Sudairi X Mia Lanni | bay | mare | 5-25-1977 | acquired 9-7-1979 sold 5-14-1982 | | |
| 1979 | Mia Lanni | AHR 40903 | Prince Hallany X Rasita | bay | mare | 2-22-1966 | acquired 9-24-1979 sold 12-1-1982 | | |
| 1980 | Malabar Michelle | AHR 207845 | Malabar Zarife X Ozma of Oz | black | mare | 2-4-1980 | sold 9-30-1991 no foals | | |
| 1980 | Malabar Banda | AHR 207839 | Prince Ebony X Malabar Nefertari | black | mare | 2-13-1980 | no foals | | |
| 1980 | Malabar Heather | AHR 210226 | Malabar Duke X Malabar Raswanah | black | mare | 2-14-1980 | sold 8-17-1983 purchased back 7-6-1985 sold 10-8-1991 no foals | | |
| 1980 | Malabar Shahrouf | AHR 207603 | Malabar Aarouf X Malabar Shahrah | black | stallion/gelding | 3-6-1980 | sold 3-7-1980 | | |
| 1980 | JMB Ibn Manolito | AHR 221384 | Manolito X Jane | bay | stallion | 3-22-1980 | bred by and co-owned with Jim and Betty Davidson sold to them 3-23-1980 no foals | | |
| 1980 | Malabar Tabitha | AHR 210225 | Malabar Duke X Malabar Mariah | black | mare | 3-31-1980 | no foals | | |
| 1980 | Malabar Aswan | AHR 210147 | Malabar Zoltan X Malabar Susan | black | stallion | 4-20-1980 | no foals | | |
| 1980 | Malabars Music | AHR 210642 | Malabar Duke X Malabar Lynda | black | mare | 4-20-1980 | sold 4-21-1980 exported to Canada | | |
| 1980 | MCM Yasmin | AHR 212607 | Ru Fa Durradan X Malabar Monah | gray | mare | 5-2-1980 | sold 2-18-1981 no foals | | |
| 1980 | Malabar Yasmin | AHR 207840 | Malabar Duke X Malabar Lovejoye | black | mare | 5-7-1980 | sold 8-1-1984 | | |
| 1980 | Malabar Sultaan | AHR 207350 | Prince Ebony X Malabar Aan | bay | gelding | 5-18-1980 | sold 5-19-1980 | | |
| 1980 | Malabar Kismet | AHR 207843 | Pince Ebony X Fadsuraida | bay | stallion | 6-12-1980 | sold 3-24-1981 no foals | | |
| 1980 | Tia Sara | AHR 95437 | El Tio X Ritzara | bay | mare | 4-22-1973 | acquired 10-5-1980 sold 7-1-1986 | | |
| 1980 | Bella Mia | AHR 137383 | El Tio X Bella Ruth | bay | mare | 4-4-1976 | acquired 10-5-1980 sold 1-19-1981 | | |
| 1981 | Malabar Omega | AHR 227501 | Malabar Duke X Ozma of Oz | black | mare | 2-6-1981 | co-owned with Anita Ogrim 2-7-1981 sold 4-6-1983 | | |
| 1981 | Malabar Briana | AHR 225469 | Prince Ebony X Malabar Nefertari | black | mare | 2-13-1981 | co-owned with Anita Ogrim 2-14-1981 sold to Anita Ogrim 12-28-1981 | | |
| 1981 | Malabar Esmeralda | AHR 225471 | Malabar Duke X Malabar Raswanah | black | mare | 2-22-1981 | co-owned with Anita Ogrim 2-23-1981 sold 8-15-1983 | | |
| 1981 | Malabar Shannon | AHR 225472 | Malabar Duke X Malabar Roda | black | mare | 2-24-1981 | co-owned with Anita Ogrim 2-25-1981 sold 2-25-1984 | | |
| 1981 | Malabar Lancer | AHR 223709 | Prince Ebony X Mia Lanni | bay | stallion | 3-15-1981 | sold 12-29-1981 exported to Canada | | |
| 1981 | Black Diamond | AHR 246772 | Malabar Manuelito X Malabar Tiffany | black | stallion | 3-15-1981 | sold 3-15-1982 | | |
| 1981 | Malabar Sundance | AHR 225474 | Malabar Duke X Malabar Mariah | black | stallion/gelding | 4-7-1981 | co-owned with Anita Ogrim 4-8-1981 sold 1-31-1984 | | |
| 1981 | Malabar Mercedes | AHR 225482 | Malabar Duke X Malabar Susan | black | mare | 5-3-1981 | co-owned with Anita Ogrim 5-4-1981 sold to Anita Ogrim 12-28-1981 | | |
| 1981 | Malabar Lancelot | AHR 225475 | Prince Ebony X Malabar Star | black | stallion | 5-10-1981 | co-owned with Anita Ogrim 5-11-1981 sold to Anita Ogrim 12-28-1981 | | |
| 1981 | Malabar Zorro | AHR 225478 | Malabar Duke X Malabar Lovejoye | black | stallion | 5-12-1981 | co-owned with Anita Ogrim 5-13-1981 sold 12-1-1981 exported to Canada | | |
| 1981 | Malabar Black Owl | AHR 225479 | Malabar Duke X Malabar Joan | black | stallion | 5-18-1981 | co-owned with Anita Ogrim 5-19-1981 sold 11-3-1984 | | |
| 1981 | Malabar Hawk | AHR 225966 | Prince Ebony X Fadsuraida | bay | stallion | 6-11-1981 sold 12-29-1981 | | | |
| 1981 | Seamaid Belle | AHR 209250 | Refky Rouser X Belle Amy by Malabar Amir | black | mare | 5-12-1980 | acquired 11-15-1981 sold 2-26-1987 | | |
| 1982 | Dunabasque | AHR 216681 | Dunajec X JK Bask Labelle pure Polish | black | stallion | 2-23-1977 | acquired 1-9-1982 sold 2-11-1982 | | |
| 1982 | Dunasana | AHR 183798 | Dunajec X San Mar Elegance | bay | mare | 6-7-1978 | acquired 1-9-1982 sold 5-19-1985 | | |
| 1982 | Highland Hastra | AHR 254129 | Malabar Duke X Malabar Gaydora | black | mare | 1-25-1982 sold 1-25-1982 | | | |
| 1982 | Malabar Bataan | AHR 244901 | Malabar Duke X Malabar Nefertiti | black | gelding | 2-8-1982 | sold 4-10-1983 | | |
| 1982 | Malabar Titan | AHR 244900 | Malabar Duke X Malabar Raswanah | black | stallion | 2-22-1982 | sold 9-16-1983 no foals | | |
| 1982 | Malabar Myrrh | AHR 244899 | Prince Ebony X Malabar Belinda | black | mare | 2-23-1982 | sold 7-21-1987 | | |
| 1982 | Malabar Sudan | AHR 246338 | Fakher El Mansour X Dunasana | black | stallion | 3-5-1982 | bred by Edward Fitzsimmons owned by Dr. Schmidt at birth sold 3-19-1983 | | |
| 1982 | Malabar Sadat | AHR 245157 | Malabar Duke X Malabar Roda | black | stallion | 3-14-1982 | sold 10-8-1991 | | |
| 1982 | Malabar Melody | AHR 245158 | Prince Ebony X Malabar Nefertari | black | mare | 4-2-1982 | sold 10-25-1985 | | |
| 1982 | Malabar Maestro | AHR 245160 | Malabar Duke X Malabar Mariah | black | stallion | 4-2-1982 | sold 6-1-1985 no foals | | |
| 1982 | Malabar Cougar | AHR 250420 | Prince Ebony X Mia Lanni | bay | gelding | 4-15-1982 | sold 3-19-1983 no foals | | |
| 1982 | Malabar Mario | AHR 247229 | Malabar Duke X Malabar Lovejoye | black | stallion/gelding | 5-5-1982 | sold 9-20-1986 1 foal | | |
| 1982 | Beztar | AHR 288597 | Bezatal X Tia Sara | bay | gelding | 5-14-1982 | sold 5-14-1982 | | |
| 1982 | Malabar Diana | AHR 247230 | Prince Ebony X Malabar Star | black | mare | 5-22-1982 | sold 5-20-1985 no foals | | |
| 1982 | Malabar Phoenix | AHR 247231 | Prince Ebony X Malabar Joan | black | stallion | 6-7-1982 | no foals | | |
| 1982 | Malabar Shogun | AHR 248557 | Prince Ebony X Fadsuraida | black | stallion | 6-10-1982 | sold 4-5-1983 no foals | | |
| 1982 | Bezibn | AHR 288593 | Bezatal X Malabar Budra | bay | stallion | 6-18-1982 | sold 6-18-1982 | | |
| 1983 | Malabar Golda | AHR 267158 | Prince Ebony X Malabar Aan | black | mare | 2-12-1983 | sold 12-2-1985 | | |
| 1983 | Malabar Ingrid | AHR 266455 | Sunny Acres Romeo X Malabar Nefertiti | black | mare | 2-16-1983 | sold 2-22-1986 | no foals | |
| 1983 | SS Stradivarius | AHR 267626 | Prince Ebony X Selket | bay | stallion | 2-26-1983 | sold 2-26-1983 | died 4-15-1983 | |
| 1983 | Malabar Indira | AHR 268785 | Sunny Acres Romeo X Malabar Roda | black | mare | 3-16-1983 | died 5-31-1983 | | |
| 1983 | Malabar Ghandi | AHR 268786 | Prince Ebony X Malabar Nefertari | black | stallion | 3-28-1983 | | | |
| 1983 | Malabar Romeo | AHR 271672 | Sunny Acres Romeo X Dunasana | black | stallion | 4-22-1983 | sold 1-24-1987 | | |
| 1983 | Malabar Sheen | AHR 270843 | Sunny Acres Romeo X Malabar Lovejoye | black | mare | 5-17-1983 | sold 10-11-1990 | | |
| 1983 | Malabar Butterfly | AHR 271673 | Sunny Acres Romeo X Malabar Mariah | black | mare | 6-7-1983 | sold 11-1-1984 | | |
| 1983 | Malabar Black Jack | AHR 278806 | Prince Ebony X Fadsuraida | bay | gelding | 6-8-1983 | sold 6-8-1983 | | |
| 1983 | Bezla | AHR 346758 | Bezatal X Malabar Layla | chestnut | mare | 7-3-1983 | sold 1-31-1984 | | |
| 1984 | Highland Raswan | AHR 292122 | Malabar Zorro X Malabar Gaydora | black | stallion | 1-14-1984 | sold 1-14-1984 exported to Canada no foals | | |
| 1984 | Malabar Satin | AHR 288182 | Prince Ebony X Malabar Star | black | mare | 2-12-1984 | sold 6-2-1985 | | |
| 1984 | Malabar Dandy | AHR 291776 | Malabar Duke X Malabar Nefertiti | black | gelding | 2-15-1984 | sold 8-14-1984 no foals | | |
| 1984 | Malabar Magician | AHR 294051 | Malabar Duke X Malabar Roda | black | stallion | 3-15-1984 | sold 5-6-1985 | | |
| 1984 | Malabar Minx | AHR 308662 | Prince Ebony X Malabar Belinda | black | mare | 3-16-1984 | sold 5-7-1987 no foals | | |
| 1984 | Malabar Symphony | AHR 300586 | Prince Ebony X Malabar Nefertari | black | mare | 3-26-1984 | sold 4-7-1988 | | |
| 1984 | Malabar Katelaan | AHR 304690 | Prince Ebony X Malabar Aan | bay | mare | 4-2-1984 | sold 4-10-1984 no foals | | |
| 1984 | Brenna Que | AHR 278090 | Que Caldeon X Princeton Santeen | black | mare | 5-3-1983 | acquired 4-19-1983 sold 5-7-1987 | | |
| 1984 | Malabar Cameo | AHR 297729 | Malabar Duke X Malabar Joan | black | mare | 4-23-1984 | sold 1-22-1986 no foals | | |
| 1984 | Malabar Playboy | AHR 300582 | Malabar Duke X Dunasana | black | gelding | 5-17-1984 | sold 3-24-1985 no foals | | |
| 1984 | Malabar Joye | AHR 300588 | Malabar Black Hawk X Malabar Lovejoye | black | mare | 5-21-1984 | sold 5-5-1987 no foals | | |
| 1984 | Perpetual Motionn | AHR 3535445 | Bezatal X Malabar Budra | bay | stallion | 6-1-1984 | sold 4-14-1986 | | |
| 1984 | Bezlalis | AHR 315029 | Bezatal X Malabar Layla | bay | mare | | 8-5-1984 | sold 8-5-1984 | no foals |
| 1985 | Zarkas Angel | AHR 339448 | Prince Ebony X Malabar Shannon | black | mare | 1-9-1985 | bred by and co-owned with Anita Ogrim sold 9-1-1985 no foals | | |
| 1985 | Zahrina Que | AHR 231353 | Que Caledon X Tazzann | black | mare | 4-25-1981 | acquired 1-16-1985 sold 6-1-1986 | | |
| 1985 | Highland Raswanah | AHR 325582 | Malabar Zorro X Malabar Gaydora | black | mare | 1-29-1985 | sold 1-29-1985 | | |
| 1985 | Malabar Dictator | AHR 319144 | Malabar Duke X Malabar Nefertiti | black | stallion | 2-15-1985 | | | |
| 1985 | Malabar Sean | AHR 319146 | Malabar Duke X Malabar Roda | black | stallion/gelding | 3-17-1985 | sold 5-4-1987 | | |
| 1985 | Malabar Skylark | AHR 319145 | Prince Ebony X Malabar Star | black | mare | 3-25-1985 | sold 5-24-1985 no foals | | |
| 1985 | Malabar Silhoette | AHR 320116 | Prince Ebony X Malabar Nefertari | black | mare | 4-9-1985 | sold 1-9-1988 no foals | | |
| 1985 | Malabar Margeaux | AHR 324628 | Prince Ebony X Malabar Belinda | black | mare | 4-17-1985 | sold 5-7-1987 no foals | | |
| 1985 | Wildside | AHR 370693 | Malabar Duke X Seamaid Belle | black | stallion | 4-17-1985 | sold 4-21-1986 | | |
| 1985 | Lady Hawk | AHR 321506 | Malabar Black Hawk X Malabar Yasmin | black | mare | 4-26-1985 | sold 4-26-1985 no foals | | |
| 1985 | Malabar Reagan | AHR 324623 | Malabar Black Hawk X Malabar Lovejoye | black | stallion | 5-7-1985 | sold 4-3-1995 | | |
| 1985 | Malabar Black Jax | AHR 325970 | Malabar Duke X Malabar Joan | black | stallion | 5-10-1985 | sold 10-10-1985 | | |
| 1985 | Blk Mgcs Dolan | AHR 336757 | Malabar Duke X Dunasana | black | stallion | 5-23-1985 | sold 10-28-1985 | | |
| 1985 | MS Raven | AHR 349696 | MS Rafiq X Malabar Budra | black | mare | 5-24-1985 | co-owned with Christoph and Octavia Altemueller 4-21-1986 sold to them 11-14-1986 purchased back 3-15-1987 no foals | | |
| 1985 | Malabar Stanford | AHR 324626 | Malabar Duke X Malabar Mariah | black | stallion | 7-9-1985 | sold 3-31-1987 | | |
| 1986 | Malabar Sally | AHR 345010 | Prince Ebony X Zahrina Que | black | mare | 1-31-1986 | sold 6-1-1986 no foals | | |
| 1986 | MA Shalena | AHR 375695 | Malabar Duke X Malabar Layla | black | mare | 2-20-1986 | sold 2-20-1986 | | |
| 1986 | Malabar Ibn Duke | AHR 345865 | Malabar Duke X Malabar Nefertiti | black | stallion | 2-22-1986 | sold 7-20-1987 | | |
| 1986 | MA Aspen | AHR 372446 | Malabar Duke X Malabar Roda | black | stallion | 3-14-1986 | sold 3-14-1986 | | |
| 1986 | MA Karuna Star | AHR 375696 | Prince Ebony X Malabar Star | black | mare | 4-17-1986 | sold 4-17-1986 | | |
| 1986 | MS Baroness | AHR 378184 | MS Rafiq X Seamaid Belle | black | mare | 5-5-1986 | sold 3-1-1987 | | |
| 1986 | Malabar Jade | AHR 349976 | Prince Ebony X Malabar Joan | black | mare | 5-8-1986. sold 5-7-1987 no foals | | | |
| 1986 | Blk Mgcs Ravin | AHR 366518 | Malabar Amon Ra X Dunasana | bay | gelding | 5-16-1986 | sold 5-16-1986 | | |
| 1986 | Malabar Hawkeye | AHR 355109 | Malabar Duke X Malabar Tiffany | black | gelding | 6-22-1986 | | | |
| 1986 | Malabar Revelation | AHR 355130 | Malabar Duke X Malabar Mariah | black | stallion | 6-30-1986 | sold 4-6-1988 no foals | | |
| 1986 | Malabar Fantazia | AHR 244954 | Malabar Duke X Malabar Loverne | black | mare | 2-25-1982 | acquired 12-10-1986 sold 10-8-1991 no foals | | |
| 1986 | Malabar Flair | AHR 297751 | Malabar Duke X Malabar Loverne | black | mare | 4-4-1984 | acquired 12-10-1986 sold 12-2-1987 no foals | | |
| 1986 | Malabar Flash | AHR 357461 | Malabar Duke X Malabar Loverne | black | mare | 7-1-1986 | acquired 12-10-1986 sold 7-2-1987 | | |
| 1987 | Blk Mgcs Sabrina | AHR 379847 | Prince Ebony X Zahrina Que | black | mare | 1-26-1987 | sold 6-6-1987 | | |
| 1987 | Malabar Kelly | AHR 373272 | Prince Ebony X Malabar Nefertari | black | stallion | 1-29-1987 | sold 5-22-1990 | | |
| 1987 | Malabar Julius | AHR 373984 | Prince Ebony X Brenna Que | black | stallion | 2-6-1987 | sold 5-7-1987 no foals | | |
| 1987 | Malabar Sensation | AHR 373278 | MS Rafiq X Malabar Budra | black | gelding | 2-16-1987 | sold 5-7-1987 no foals | | |
| 1987 | SRA Royal Silk | AHR 384770 | Malabar Duke X Malabar Nefertiti | black | mare | 4-5-1987 | sold 4-5-1987 | | |
| 1987 | Malabar Kate | AHR 384670 | Malabar Duke X Malabar Loverne | black | mare | 6-26-1987 | | | |
| 1987 | Malabar Denmark | AHR 384662 | Malabar Duke X Malabar Mariah | black | stallion | 7-19-1987 | sold 6-13-1993 | | |
| 1988 | Blk Mgc Celebrity | AHR 409566 | Malabar Amon Ra X Zahrina Que | black | stallion/gelding | 2-28-1988 | sold 2-28-1988 | | |
| 1988 | Blk Wings Empress | AHR 401539 | Malabar Amon Ra X Dunasana | black | mare | 3-2-1988 | sold 3-2-1988 no foals | | |
| 1988 | Malabar Black Eagle | AHR 401703 | Prince Ebony X Malabar Nefertari | black | stallion | 3-14-1988 | died 10-13-1988 | | |
| 1988 | Malabar Thea | AHR 406452 | Grey Foxx X Malabar Ruth | bay | mare | 3-23-1988 | bred by Charles and Vilate Faulkner owned by Dr. Schmidt from birth no foals | | |
| 1989 | Malabar Chas | AHR 461794 | Malabar Ghandi X Malabar Sheen | black | mare | 5-16-1989 | sold 7-18-1990 died of colic 1997 no foals | | |
| 1989 | Malabar Kayla | AHR 451158 | Malabar Duke X Malabar Ruth | black | mare | 5-20-1989 | sold 5-22-1990 | | |